World remit transfer – If you wish to send or receive money in Nigeria via the World remit platform but seems not to understand the dynamics/how to carry out transactions yet, this guide will take you by the hands and lead you right.
About world remit transfer
World remit is a cross-border digital payment service that allows you to transfer money internationally across more than 130 countries payable in over 70 currencies.
Founded in 2010 by Ismail Ahmed, Catherine wines, and Richard Igoe.
Dynamics
Sending and receiving money with world remit is swift, fast and secured.
If you are conversant with other money transfer platforms like
Western union
Money Gram
Small world
Remitly, etc. Then you won't have challenges understanding the working dynamics of world remit.
Every money transfer platform is a two-way thing just like the "World remit" where you have the sender and the receiver.
How to send money to Nigeria via "World remit transfer"
If you have a need to send money back home as a sojourner in Europe or America, world remit is pretty easy to use.
Kindly follow the below steps to send your money home without stress.
Step 1: You can either send transfers online or via the World remit transfer app.
Download the world remit app available on both IOS and Android operating systems
Step 2: Sign up and log in online/into the app and from the menu click on "How it works"
Step 3: Enter the sent amount, choose delivery option either cash pick-up or bank deposit, you will be notified of the receipt amount in Nigeria, usually in USD and the transfer fee, click on continue.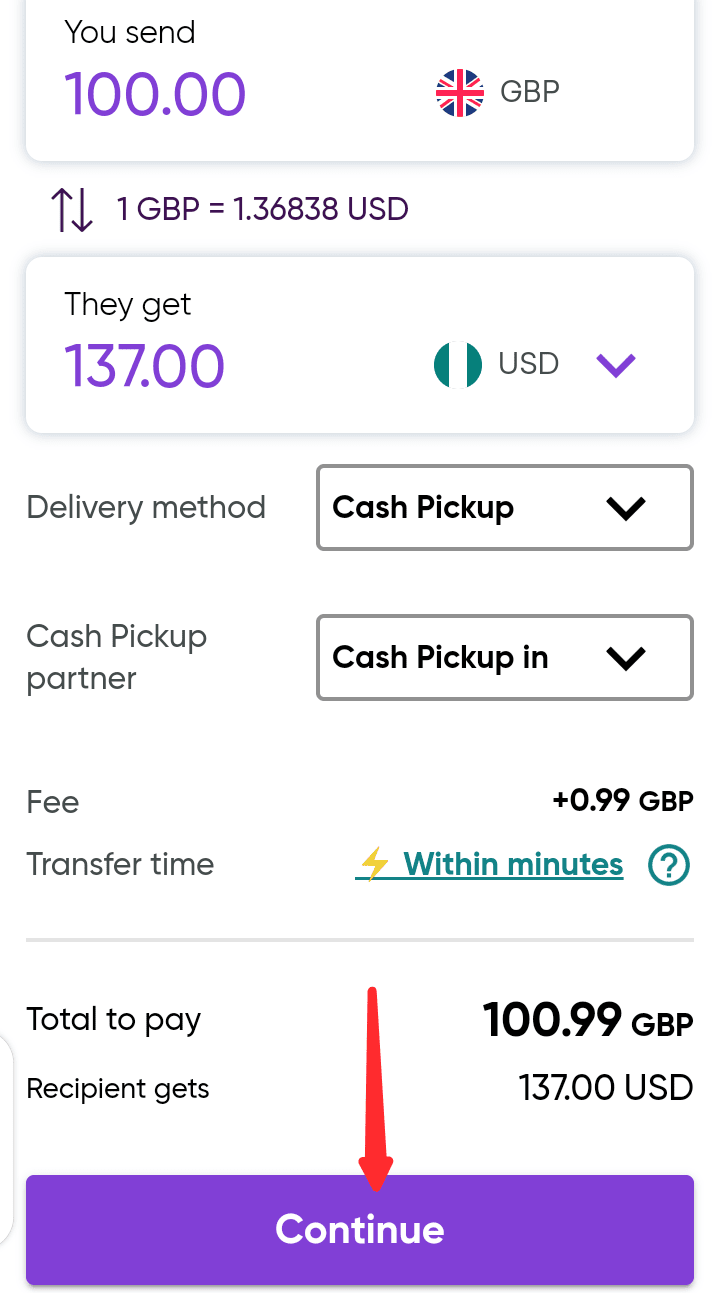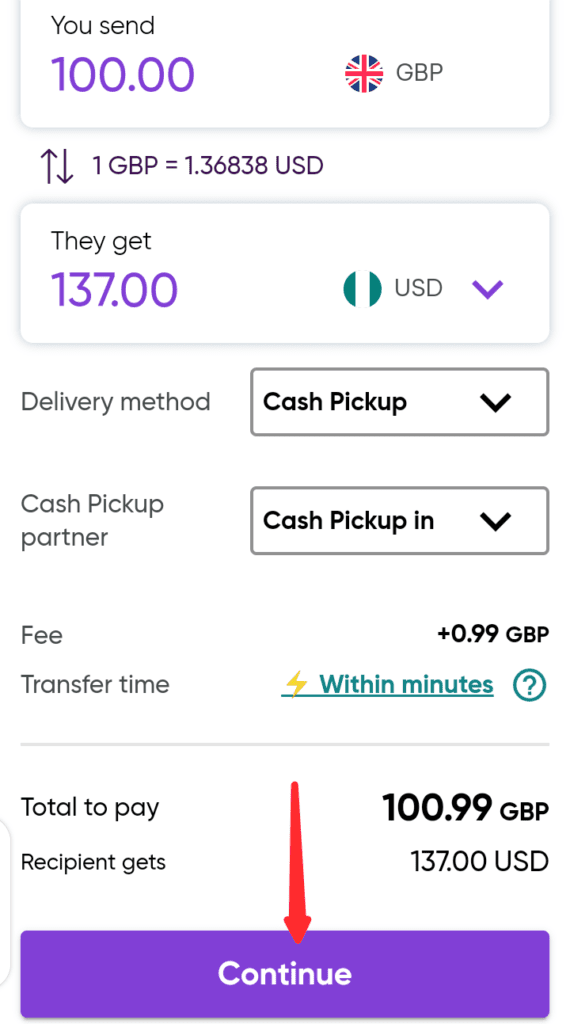 Step 4: In the next slide you'll be required to enter your recipient's details.
Read also: Remitly Transfer to Nigeria: How To send and receive Remitly in Nigeria
Note: Before you commence the transfer it's expected that the recipient in Nigeria or any other destination country would have sent you their correct names as contained on their approved ID card in the destination country.
For example, in Nigeria you can use any of the following ID cards
Driver's license
National ID card or
International passport.
Whichever ID card your recipient provides should be verifiable in his/her home country, and the name on the ID card must be captured accordingly, otherwise they will not get paid.
Continue from step 4 above: The first name, middle and last name must be inputted at the appropriate columns as seen on world remit transfer platform.
Select the town/city: In this case input the name of the very state where your recipient resides otherwise use Lagos Nigeria, simple.
Enter the receiver's valid phone number and email address where applicable.
While email is an option, the phone number is compulsory because world remit will send the transaction details to your recipient the moment a transfer is ready for pick-up.
Additionally, the recipient will receive an (OTP) One Time Password while processing receipt in the destination country.
The OTP serves as an authenticator for the transaction and an extra security, where the receiver could not receive an OTP on processing the transfer cannot be completed so pay detailed attention to the phone number.
Choose your reason for sending transfer which could be; family support, property payment, purchase of services, and sending fund to self.
Ensure to have entered correct and reviewed details before you click on "Continue" to advance to the next slide.
Step 5: Add your personal details, this information must match the government issued identity document, otherwise your transfer will be delayed. These include
First name, middle name and last name
Date of birth
Gender
Phone number
Address as seen below and click on continue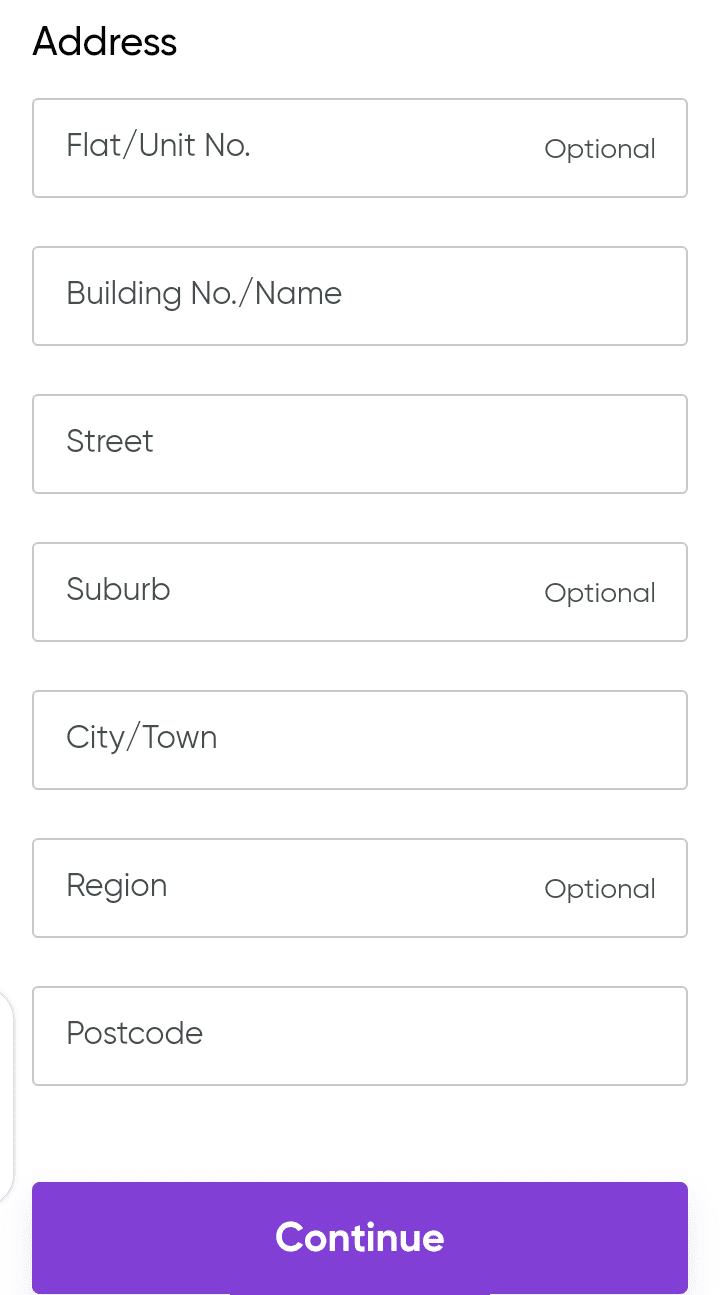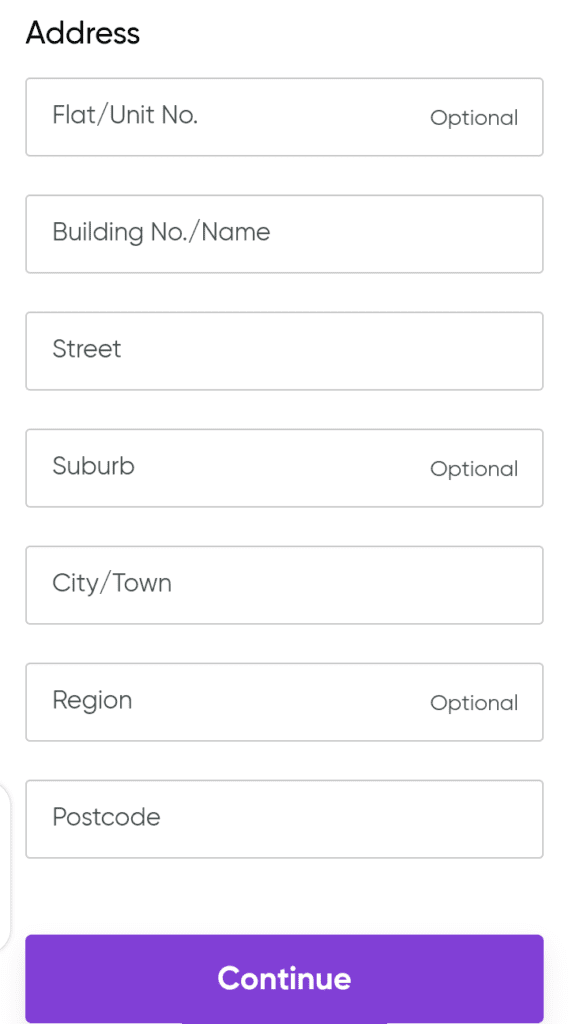 In the next slide you are required to link your payment details which could either be your credit/debit card. The transaction and fee amount will be deducted from your linked card having clicked on pay now.
You have completed your transaction successfully, transaction details will be sent to your contact while you may screenshot the details on your screen.
You should then send the transfer details to your recipient who should as well receive a message from world remit, whichever comes first.
How to receive World remit transfer in Nigeria
You can receive world remit transfers in Nigeria within just 3 minutes of remittance that's how fast sending and receiving transfers on this platform could be.
As a recipient it's expected that you have received the transaction details, either from world remit itself or from the sender, whichever comes first.
Now pick a valid ID card which details you sent earlier to the sender and head over to the bank.
Note: You can receive money in Nigeria in two ways;
Cash pick-up or
Bank deposit and all transfers are sent and received in USD as at the time of writing this guide.
If the money was sent to your bank account, walk straight to the counter with recourse to the bank advised, fill a withdrawal slip, the only difference here is that you will fill your transaction amount in USD both in words and figures.
The teller will process and pay you immediately.
Where it is cash pick-up kindly indicate and you will be required to complete a world remit transfer receive form, your valid ID card will be required too, see ID class as listed in the sender's column above.
Having verified and validated your ID card, the teller processes and pay out your transfer immediately in USD.
Banks partnering with World remit you can receive transfers
There are just a few banks at this time where you could either pick-up your cash or withdraw, these include,
Polaris bank
First bank
Access bank
Fidelity bank and
GTBank
You can walk into any of these banks for your cash pick-up, for bank transfer you will be advised by world remit or the sender.
There are instances where receivers are asked to go ahead and withdraw from a bank transfer even though they do not have a domiciliary account with such bank.
What they do is that world remit will process the transfer then ask your bank to open a domiciliary account on your behalf, especially if you have an existing naira account with such bank.
Note: This account can only be used in receiving USD remittance subsequently and saving your USD, but cannot transfer USD to another domiciliary account.
This process does not take up to 10 minutes even, once you arrive you will be paid.
So when next you are being advised, kindly go ahead and withdraw as instructed.
How to send and receive world remit transfer in Zimbabwe
Kindly follow the same process for sending money to Nigeria.
Select your destination country and input the correct recipient's details.
For cash pick-up in Zimbabawe the receiver should visit any of the below points
Mukuru outlets in town
NMB bank limited
Quest
Contit UCH
CBZ bank limited
Steward bank
OK Zimbabwe limited
KAAH
POSB
ZB Bank
Success microfinance bank
CABS
Banc ABC
As a receiver, endeavor to visit the pick-up location with your valid ID card.
If you wish to send/receive via mobile money network, you are advised to send through "Econet."
For airtime top-up to Zimbabwe kindly send to
How to send or receive money in Ghana
You can send/receive money to Ghana via
Mobile money, monthly transaction sending limit for mobile money to Ghana is now $3000, while daily transaction limit remains $500
However, international remittances into business accounts are not allowed in Ghana.
Strictly Vodafone network
Read also: How to send and receive Ria money transfer in Nigeria
Cash pick-up locations in Ghana are
ARB Apex bank
GTBank
Adb
Goldenlink
GCB
Universal merchant bank
Republic bank
Global access
Zenith bank
Fidelity bank
First Atlantic bank and
Ecobank
If you prefer a bank transfer in Ghana, kindly visist
Fidelity bank
GTBank and
GCB
How to send/receive world remit transfer in Morocco
Cash pick locations;
Al BARID Bank
BARID CASH
CASH PLUS
CanalM
Bank transfer
If you wish to have a bank transfer in Morocco, find the below
Airtime Top-up
How to send/receive money in Kenya
Bank transfer: Co-operative bank
Cash pick-up locations
GulfAfrican Bank
Equity
NC Bank
DTB
FKCB
Co-operative bank and
National bank
Mobile money networks
Airtime top-up
How to send/receive money in Ethiopia
Mobile money
Wegagen bank
Dehub global bank
Abay bank sc
UB
Enat bank
Awash bank
Dashen bank
Commercial bank of Ethiopia
Bank of Abyssinia
Bank of Oromia
How send/receive world remit transfer in Philippines
Cash pick up locations
True money Philippines
Business services
PS Bank
Palawan Pawnshop
RD Pawnshop
VILLARICA
LBC
CEBUANA
The store
BDO
Metrobank
MLHUILLIER
Bank transfer
Mobile money networks
World remit U.S.A to Nigeria rate
As at the time of writing this guide, transfers to Nigeria are strictly received in USD.
The receiver will only have to meddle with the local/parallel market rate after cash pick-up or withdrawal which is somewhere around N500/$ at the time of writing this guide.
Conclusion
World remit transfer limit to Nigeria
You can send as much as $6000 to Nigeria per quarter, you are required to provide further documentations as deem necessary by world remit if you wish to send higher limits.
World remit will communicate you about this at the appropriate time.