Paga account – If you are looking to send and receive money with ease as well as pay your bills without blinking a lid, Paga is that one partner that had you covered.
Did I tell you, you can use Paga to pay for a UK Visa? Sure you can as well as consummate other transactions abroad.
If you are a merchant looking to accept customer's payments with ease, Paga is a trusted partner that takes care of your collections while you run other business activities, it's stress and hitch free.
About Paga
Paga is a mobile payment company with an ecosystem that enables clients to send and receive money as well as creating simple financial access for everyone.
Paga was founded in Nigeria as a Lagos based fintech in 2009 by Tayo Oviosu and Jay Alabraba, however launched in 2011, dedicated to Africa's innovation Paga is one of the leading payment platforms in Nigeria.
Transactions you can consummate with Paga
Yu can send money to family and friends
You can collect payments from customers
You can request money
You can pay your bills like; electricity, cable TV
Top-up airtime,
Buy data, etc.
How to sign up for Paga account
Before you can explore the Paga services, you will have to register an account first.
Download and install the Paga app on Google or App store for Android and IOS operating systems.
Launch the app and click on "Sign up"
Complete the required details; First and surname, valid phone number, choose a strong password, email address, choose a username, select your gender and continue
Verify your account with 5-digit code sent to your phone number via SMS
Take a selfie of you and upload to further verify your account
Complete Paga account registration by providing; your date of birth and address.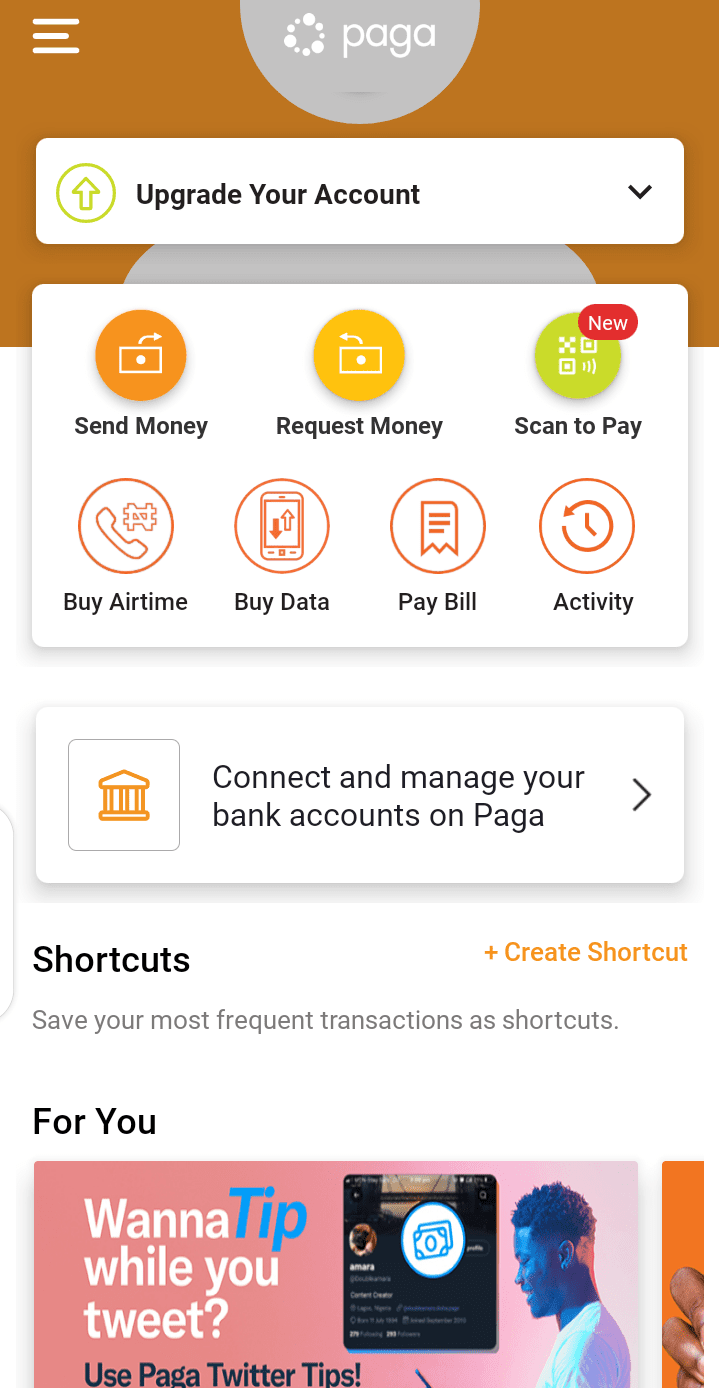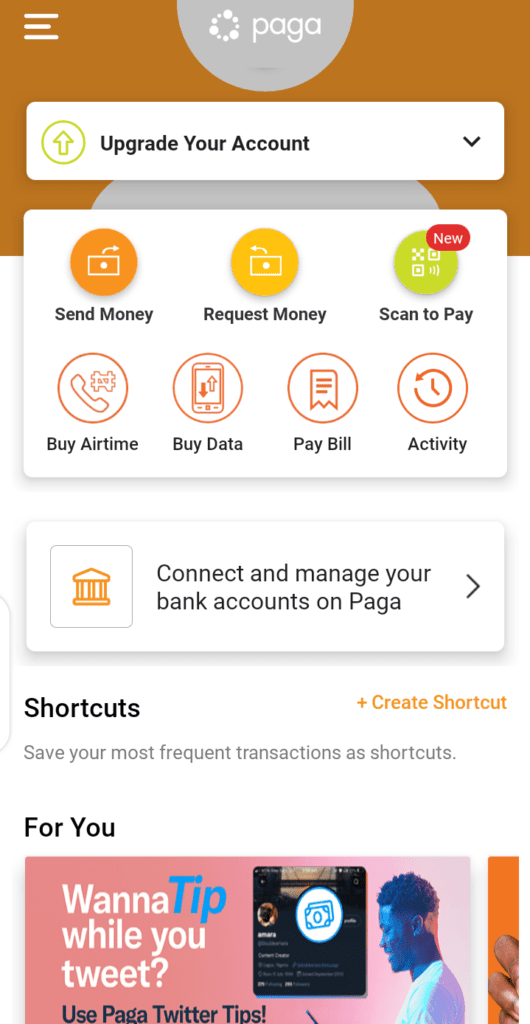 Congratulation, you may then link your bank and card to start transacting on Paga immediately.
How to fund your Paga account
To fund your account, either you tap on the plus sign in front of your screen or you head over to the Menu, click on wallet, the tap "Add money"
You can add money to your account in three ways; Bank transfer, card or bank account, and request money.
Whichever method you use, you are required to fund your account by transferring money to a designated Paga account number attached to your Paga account.
If you are looking to receive money from a third-party kindly click the "Share account details" to share with your benefactor.
How to send money on Paga
Enter the receiver's account number, email address or phone number
Select the recipient's bank from the list of options
Enter amount you want to send
Your account should be funded by linking your card prior this. However, kindly be informed that your transfer comes with a little charge. Having linked your card, your account will be debited for the amount once sent.
Send your money, you will be debited with value while your recipient will be credited with value as well.
How to request money from a sender abroad
To request money as a new user you will have to set up your unique payment page by linking a bank card and your bank account to your Paga wallet.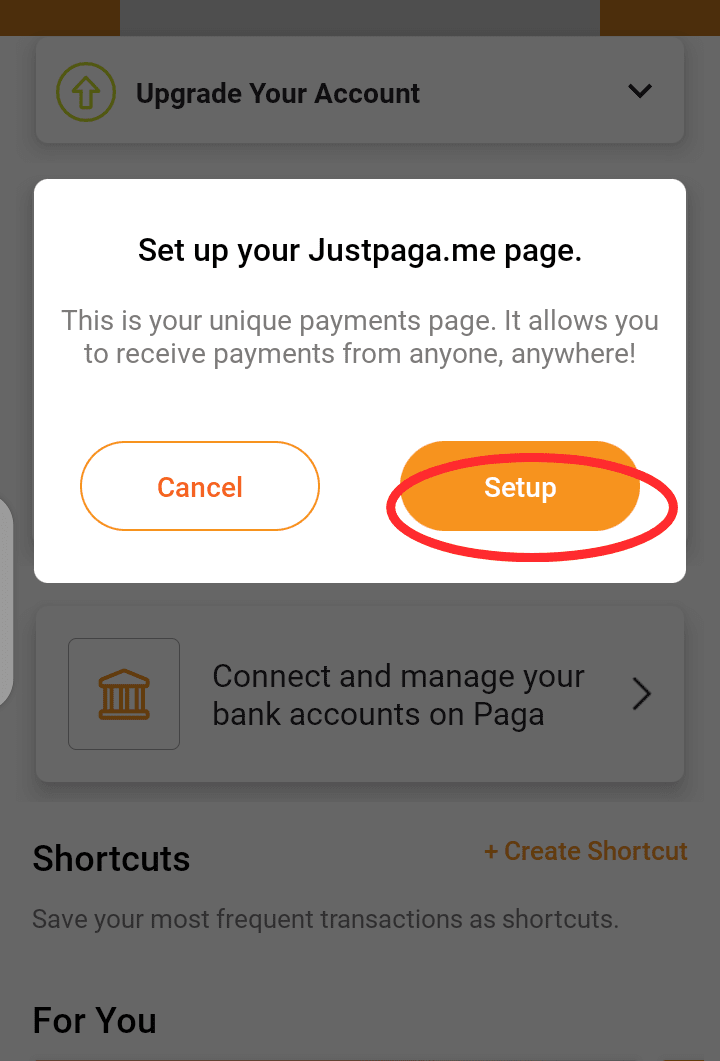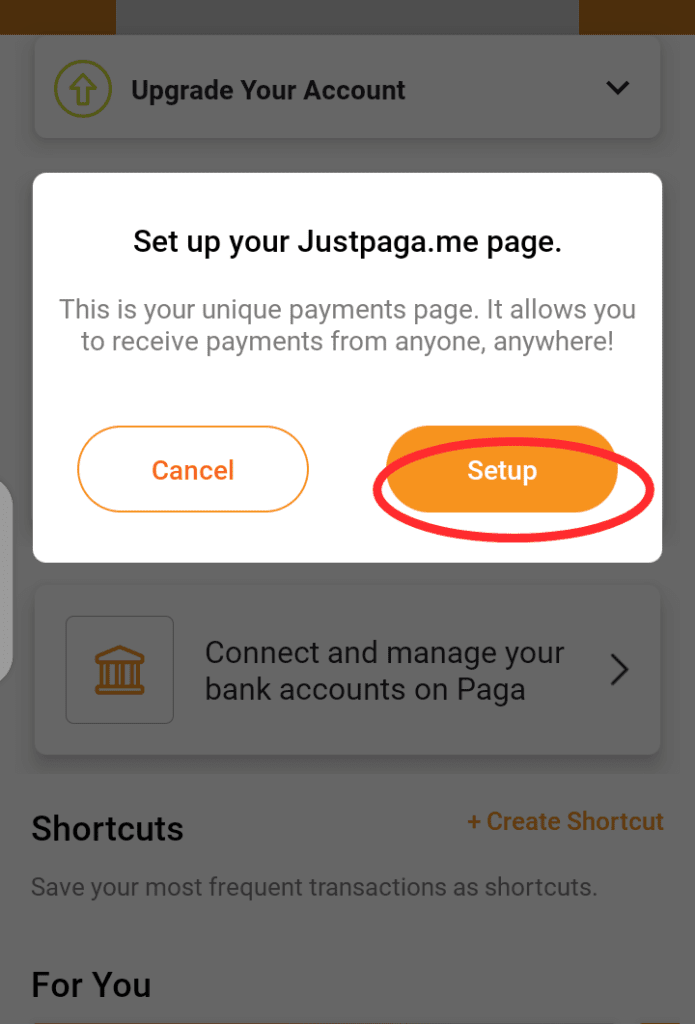 Provide your sender with your valid mobile phone number or bank details (name, account number, and account name)
Request that your sender goes to any Paga's international remittance partner's outlet or website and select Paga to send money.
You will receive funds instantly in your Paga wallet, or directly in your bank account.
Paga account number
The Paga account number is a unique account assigned to you by Paga the moment you sign up. It's a Paga wallet account from where your wallet transmits and completes transactions. This account number can be traced to the home screen of your Paga app.
How to find my Paga account
Log into your Paga app with your username and password. You should be able to access your account if your details are inputted correctly, your account number is located at the upper end of your Paga app.
Paga agent
You can become a Paga agent and earn some money when you help your customers pay bills, buy airtime or data, make deposits, withdraw money, open a Paga account and also when they transact from their personal Paga account.
Paga supports you with business Capital as an agent, as well as pays commission and bonuses.
Paga USSD code
Paga has USSD code that enables its clients to transact fast and seamlessly. Kindly find the codes and their respective transactions being consummated.
Send to bank account: Dial *242*Amount*10-digit account number#
Select the recipient's bank from the list of options, enter their phone number
Enter your PIN and confirm the transaction.
Send to Paga account: *242*4# and enter the amount you want to send
Enter the recipient phone number or 10-digit account number
Enter your PIN to confirm the transaction
An SMS with withdrawal codes will be sent to you.
Send to Paga agent or ATM pickup: Dial *242*3# and enter amount
Enter the recipient's phone number
Enter your PIN and confirm transaction
An SMS with withdrawal codes will be sent to you.
USSD code to pay your bills
Pay-TV
DStv – *242*810
GOtv – *242*820
Star Times – *242*813#
Consat – *242*804#
Montage – *242*811#
Electricity distribution companies
AEDC – *242*813#
PHED – *242*816#
JED – *242*817#
EKEDC – *242*818#
KEDCO – *242*819#
Conclusion
Paga allows you to send and receive money from anyone as well as pay for your bills, airtime top-up and data as fast as possible with no hidden fees.
When you sign up for an account you can access the services from the comfort of your domain, are there questions or inquiries to this, let's get talking at the comment session.